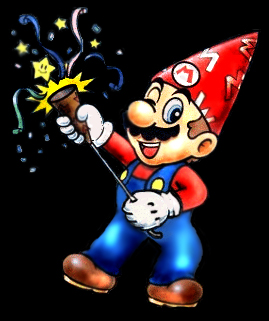 It's my birthday on Monday. The rumors are true; having fireworks each year on your birthday doesn't suck. Today, I used some birthday checks that arrived early to purchase a shiny, Bronze DSiXL! I've wanted one for a long time but didn't have the disposable income to justify it. I know it's just a big DS (I don't much care for DSiWare or the camera), but the screen is so nice! And it fits it my hands better. And I flippin' love the location/style of the volume and power buttons. Also, the d-pad, shoulder and start/select buttons feel better too.

So, yea, I guess it is a major upgrade for me!

I kept my black DS lite because I don't think the $40(?) trade in is worth the sentimental value. We've been through some good times together! ... so very many Pokémon.


I know one of the employees at a nearby GameStop. I brought him 10 copies of this flyer from Operation Rainfall. He said he would cut 'em up and leave 'em out for people. It's one of the busier GameStops in the area so hopefully it helps just a little bit! You should do the same in your area!


In the early days of this website, I used to spend a lot more time pointing out the faults of mainstream gaming media. An easy source for media faux-pas has always been Kotaku.com. Eventually, I was able to break the cycle and just stopped visiting that cesspool all together.

However, some respectable sites I frequent still relay Kotaku's "stories" for god knows what reason. So recently, I came across these two gems and wanted to give my quick responses ...

"Gamers, Let's Stop Hating Each Other"

You know, I completely agree with the underlying sentiment of this article. Too bad it comes from a site that has spent years cultivating the very hatred discussed in the article!

Which Wii Game Did GameStop Refuse to Accept for a Trade-In?

This next article comes from part-time (very small part) journalist and full-time moron, Stephen Totilo. The article is only one paragraph so, go ahead and give them a hit and read the thing.

Back? Good.

So, the story was about a GameStop's incomplete computer records, right? Then how come Stephen closes by inviting his readers to "Insert your own jokes about Wii games below...." ?

Looks like his position as full-time moron won't be jeopardized any time soon.

I know I'm preaching to the choir, but we need to get the word out that gamers deserve more mature, unbiased journalism!! If you frequent sites like those, speak up! The silent majority just needs brave souls to lead by example. So, any small thing you can do is a big help!!